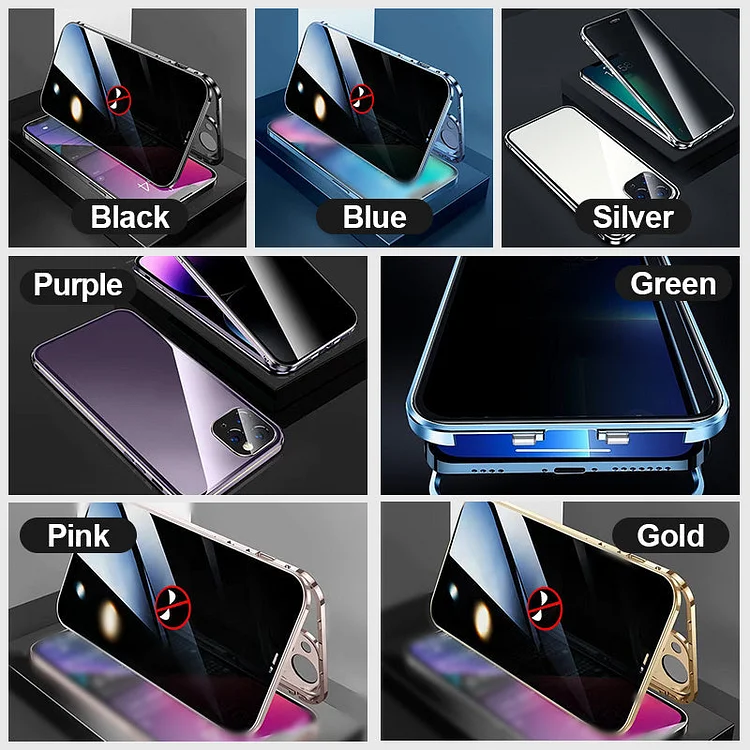 Say goodbye to Bulky and Heavy traditional phone case.
Wearing this ultra-thin and flexible case, you will get a fully protected but lightweight Phone.
The integrated design of the case and screen film makes your phone fearless of any bumps.
 Key Features
360 Degree Full Protection
High-hardness metal frame, Tempered-glass screen protector,Double magnetic Buckle. The combination offers military-grade protection to your phone. The unique designed structure is shatterproof and anti-drop.
Ultra-clear Glass won't go Yellow
Unlike traditional silicon cases, the tough glass back never yellows and resists scratches to show off your phone's true style for longer.
Extra Protection for camera and screen
There is a 2.2mm raised screen edge and 1.3mm raised camera edge which provides extra protection for your phone screen and camera.
Anti-scratch, waterproof, anti-fingerprint
The glass back effectively keeps the device away from smudges, fingerprints, and scratches. The clear design brings the phone a layer of chic mystery that won't fade or get dirty like traditional cases.
Anti-Peeping Screen and Face ID support
The screen glass is coated with a special film that prevents people from prying into your information and secrets and it doesn't interfere with Face ID recognition.
Specification
Material: Metal + Glass
Model: iPhone
Process: Electroplating
Color: Black, Blue, Silver, Purple, Green, Gold, Pink
Package Includes
1* Double Sided Glass Protective Case for iPhone
Notes
Please confirm your phone model before purchasing.