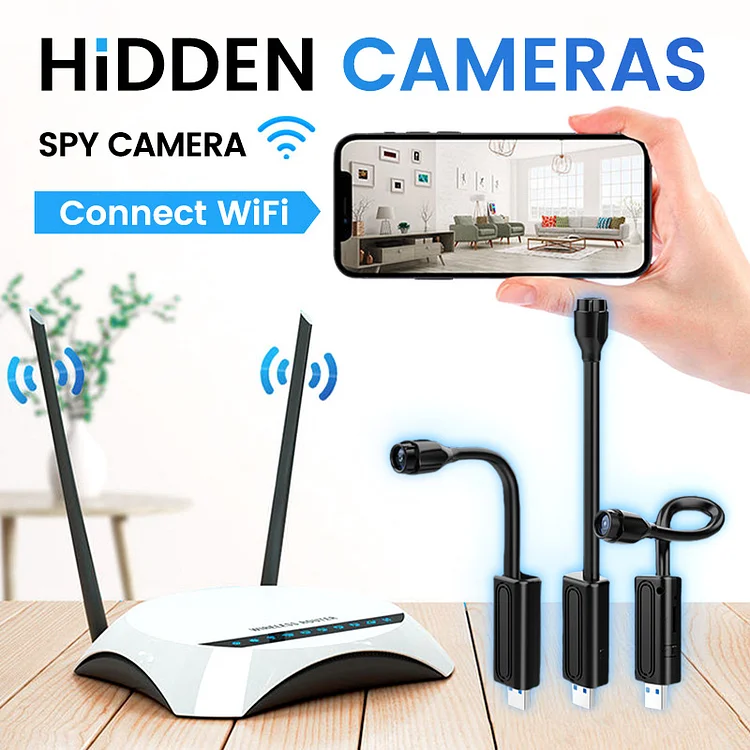 【 UPGRADED CAMERA】: New upgraded version small camera is the cameras for home security outdoor wireless wifi. HD lens and resolution and flexible metal hose can be 360 degrees bent at will.
【USB PORTABLE WIFI CAMERA】small cameras hidden wireless with SUB design,can be as in your computer, laptop, power bank, wall charger...all power supplies with USB interface, so this USB snake camera also can be plugged into mobile power,move to any place and record automatically 24 hours a day.
【HOME SECURITY CAMERAS】Wifi camera,real time view the video via mobile APP,image sensor that captures 1920 x 1080P HD video with accurate color reproduction,Keep an eye on your home or office as a nanny camera.
【REMOTE PLAYBACK】nanny cam hidden camera Maximum support 256G FT card,Support hotspot connection if wi-fi is unavailable. This way is only be connected up close and viewed in real time. Don't support playback.built-in large battery of more than 420mAh, it can be used for 2.5 hours after fully charged.
【HASSLE-FREE WARRANTY】90-day warranty, always customer satisfaction,hidden security camera package contains:1 X USB Camera,1 X Color band diagram User Manual. Please read the user manual or the steps of using Product description carefully. If you need help, please contact us.
Our mini camera can be used in a variety of scenarios, at home, in a shop, in an office, and can start working as long as it is connected to WiFi and a power source
Supports multiple ways to provide power
Our camera can be plugged into a power bank or charger, power sockets, wherever there is a usb port to provide power for it. Please note that the network supported by the camera is 2.4ghz or 4g, you need to have the appropriate router
WIFI Remote Mode
First Step
1.Click"+"
2.Click "AP add Device"
3.Click "···"
4.Click"Settings"
5.Click "WLAN"
Second Step
6.Select to connect your 2.4G band
WIFI, and then click JXLCAM in the
upper left corner to return to the APP.
7.Enter the correct WIFI password and click
"Next"
8.Click "..."
9.Click "Settings"
10.Click"WLAN"
Third Step
11.Connect to the device hotspot "BCCQ..." Then click JXLCAM in the upper left corner to return to APP.
12.Click"Add Device"
13.Wait for distribution network.
14.After seeing the success of the distribution network, click"Next" .
15.Customizable name, click"next"
16.You can view the camera preview page on the home page.
Note
:
Products with electrical plugs are designed for use in the US. Outlets and voltage differ internationally and this product may require an adapter or converter for use in your destination. Please check compatibility before purchasing.