Description
This USB Rechargeable Wrist Fan with Comfortable Wrist Strap - Built in Colorful LED Change Light is the perfect way to stay cool and comfortable in any environment. The fan is designed with a comfortable wrist strap that keeps you cool and comfortable while you work or play. The fan is USB rechargeable, so you don't have to worry about buying batteries. It also has a built-in colorful LED change light that adds a fun and stylish touch to your fan. The fan is small and lightweight, making it perfect for travel or just keeping in your bag. This fan is a great way to stay cool and comfortable while also adding a bit of style to your look.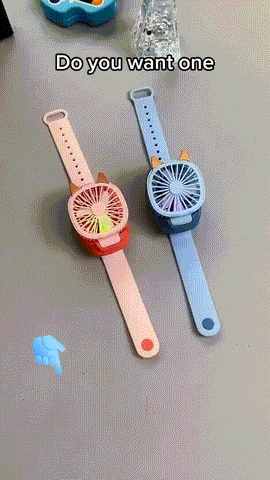 Features
Premium material - The fan adopts ABS plastic safety material, which is non-toxic and harmless, healthy and safe to use. The wristband of the fan is made of soft and dense elastomer material, which fits the wrist and is comfortable to wear.
3 Gear wind speed - The fan features the three-level setting for wind control, which features the stable wind speed to meet various requirements.
LED color light - Built in LED colorful change light, lights will automatically change seven colors, creating a cool atmosphere.
Detachable design - The fan and the watch can be detachable and separated, and the removed fan can be used as a desktop fan independently.
Clever design - Press the button to make the fan pop up, you can adjust the wind direction at will, and when you're not using the fan, you can easily stow it back.
Portable - This fan is lightweight and portable. It can easily be taken on the go and used anywhere.
Specification
Material: ABS+PP+electronic components
Product size: 92 * 78 * 197mm (including packaging)
Product weight: 90g (including packaging)
Noise: below 36dB
Rated power: 1.2-5w
Wind speed gear: three gears
Battery: Lithium battery (800 mA)